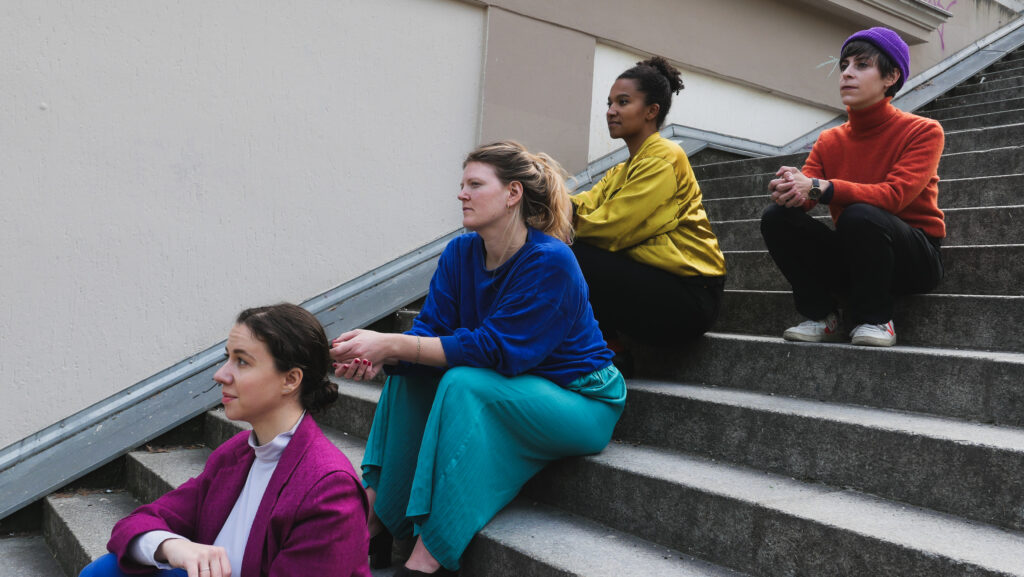 Das Ensemble O ist ein experimentelles Vokalensemble aus Berlin.
Dora Osterlohs Kompositionen spielen mit vier Frauenstimmen als Gesamtinstrument, lassen sie sprechen und schreien, entscheiden und experimentieren. Improvisation hat Raum. Texte haben mal inhaltliche Bedeutung, mal klangliche. Das Individuum jagt das Kollektiv und wird von ihm eingefangen.
Die Mitglieder des Ensembles sind allesamt Sängerinnen der jungen Berliner Jazzszene.
Ihre künstlerischen Persönlichkeiten und solistischen Eigenschaften finden im Ensemble zu einem einzigartigen Klangkörper zusammen.
Ensemble O is an experimental vocal ensemble based in Berlin.
Dora Osterloh's compositions are created for four female voices as one instrument. This instrument sings and whispers and speaks and howls, experiments and decides. There is space for impsovisation, lyrics have meaning or function as sound-source. The individual acts within the collective and interacts with the collective.
The ensemble members are all important characters of the young Berlin Jazz scene. In this project their personalities as artists and their solistic abilities come together to form an own body of sound.
Dora Osterloh (voc, comp)
Friederike Merz (voc)
Fama M'Boup (voc)
Laura Winkler (voc)